AIR DEHUMIDIFIER
Whole House Dehumidifier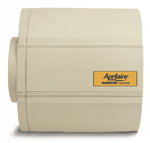 The best way to dehumidify your home.
If you've got too much moisture in your home, it's not just uncomfortable — it's a recipe for all kinds of problems. An air dehumidifier reduces and maintains humidity levels by extracting water from the air, so you can protect your home and the people inside it. With the proper level of humidity in your home, you will stunt mold growth, keep bugs away, feel more comfortable and breathe easier.
A whole-house dehumidifier installation can eliminate musty odor and prevent the growth of mildew. It also reduces the dust in the air, one of the most common triggers for allergies. If you're interested in increasing comfort, reducing utility bills and protecting your living spaces from excess moisture, getting a portable whole-house dehumidifier could be the perfect solution — and Gene May Heating & Cooling is here to help you get one installed.
A whole house dehumidifier can be easily added to any forced air heating system. As long as the condensate water is handled correctly, most dehumidifiers require very little maintenance, yet they do so much to improve the air in your home. Portable dehumidifiers typically last between 3 - 5 years, while a whole house dehumidifier offers approximately 8 years. The actual life span for your dehumidifier depends on how you care for it over the years. Proper dehumidifier maintenance, while minimal, is essential for extending the life of your unit.
If you're interested in installing a portable dehumidifier for a whole house, Gene May Heating & Cooling is at your service. Because this system connects to your entire HVAC, getting professional installation is key. Our company has been serving Aurora-area residents since 2007 and today we are the area's go-to company for all things heating and cooling. Reach out to us today to get started on improving your air quality at home!