Modifications And Duct Repair In Joliet IL
Ductwork Modifications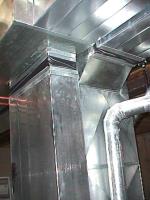 Putting Comfort Where It Was Meant to Be
Improperly sized or designed ductwork is the most common reason people are not comfortable in their own homes. Imagine for a moment that your furnace is your lungs. Now imagine that you are running a 1-mile race. If you are in good shape, you should have no problem. Now imagine that you have to run that same 1-mile race breathing through a cocktail straw. No matter how good of shape you are in, you will never run the race as fast and easily as if you could breathe normally. This inability to breathe is what happens when your furnace is forced to operate through improperly sized ductwork.
By custom fabricating sheet metal ductwork, we can quickly and efficiently build any necessary parts of duct to modify and enhance the performance of your system. Even if your entire duct system needs replacement, we can design and fabricate a new system in less than a day.
Why You Should Take Care of Your Ductwork
We're your best choice for duct repair in Joliet IL as well as other maintenance services. Even though they don't feature moving parts or electronics the way your air conditioner or furnace does, your ducts still require upkeep to ensure they contribute to the comfort and air quality of your home.
For example, over time your ductwork may begin to settle due to wear and tear or gravity. This means gaps can appear in the seams between them, leading to leaks that can hurt the efficiency and effectiveness of your HVAC. If you have whole-home temperature zoning, this could mean certain rooms may not be properly cooled or heated. Our air duct leak repair capabilities can fix these and ensure the right level of performance.